Celebrate Cinco de Mayo with this Bilingual Book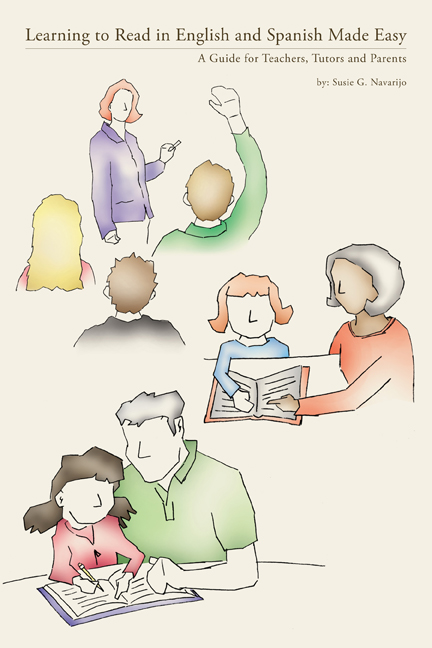 Today is Cinco de Mayo! Though this is not an overly celebrated day in Mexico, in the United States, Cinco de Mayo has turned into a celebration of Mexican culture and heritage.
So today, in honor of Cinco de Mayo, we wanted to celebrate one of our very own Dorrance published books, Learning to Read in English and Spanish Made Easy: A Guide for Teachers, Tutors, and Parents, by Susie G. Navarijo!
Reading is absolutely fundamental to every child's growth. Not only does it expand their vocabulary, it also helps children improve their communication skills and prepares them for academic success.
All of these are reasons why we at Dorrance Publishing take exceptional pride in our books that are geared toward children.
In Learning to Read in English and Spanish Made Easy: A Guide for Teachers, Tutors and Parents, readers are invited to study the unique methods that Dorrance Publishing author, Susie G. Navarijo, has developed over three decades of teaching reading to first graders.
Throughout this 148-page book, she also shares personal experiences collected over the years in trying to help children with special needs and backgrounds.
This book promotes the importance of teachers being on the lookout for new and innovative ways to teach the same objective to their students. Further, knowing students' backgrounds as well as language experiences will allow an educator to garner more insight on students' unique learning processes.  
Now a retired first grade teacher, Navarijo was one of the first bilingual teachers in her school district in San Antonio, Texas. In 1986 she was chosen as the Bilingual Teacher of the Year for the San Antonio Area Association for Bilingual Education.
It was Navarijo's ability to divide her groups into English and Spanish as well as by skill that enabled her to develop tried and true methods to stress the commonalities that are found between both languages.
But, even in her retirement, Navarijo has not slowed down; in fact, she has channeled her love of children and success in teaching to tutoring migrant children. This wonderful book has allowed this skilled teacher to share her successful methods and experiences with others in her field. It's her belief and hope that every child has the potential to learn in every classroom in America.

This Dorrance-published book serves as a wonderful bilingual reading aide to any parent, teacher or tutor! Get yours today!
Copyright Dorrance Publishing, 2015