Let Sparks Fly with your Writing!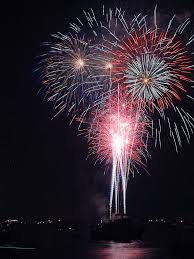 If you're in the United States, Independence Day is right around the corner, so we thought we'd celebrate by talking about fireworks and your book!
 You may be thinking to yourself, "What do fireworks have to do with writing my book?" And no, we're certainly not going to get all Fahrenheit 451 in this post. Instead, we want to show you that fireworks have everything to do with writing!
 On the Fourth of July, the main event in many cities is the fireworks display that happens once the sun goes down. It's safe to say that no one wants to watch a lackluster display that's so far away you can barely see it.
 This same notion applies to writing your book. As a writer, you need to be able to set up your story in a way that illuminates the main problem or theme in a way that you don't need to squint to understand where your book is going (aka, see the fireworks). You only get a small window to draw your readers in, and just like a fireworks display, you don't want to start the show with less-than-extraordinary pyrotechnics.
 Any great fireworks display doesn't start with the grand finale; rather they gradually start and build up to the main event. Furthermore, the fireworks are continuous with no lulls in the action, and a good show will keep the spectators glued to the sky while watching in awe.
 It's the same emotion that you want to evoke in your readers. Through the words of your book, you want to build the excitement and take them along a journey filled with fireworks of all colors and designs that ultimately lead to the main event – the culmination of the plot that ends with the grand finale.
 But there is a fine line between having too much action and having just the right amount. The novelty of the fireworks show wears off after a certain length of time. This same thought applies to writing your book. If you can prove a point in 400 words rather than 1,000 words, choose the first option. The art of being able to articulate a thought in a more concise way will alleviate unnecessary wordiness and keep your readers intrigued.
 Finally, just like fireworks, go out with a bang! Now, you've probably seen some great grand finales and some lackluster ones. When it comes to your book you always want to end with the best! When tying up the loose ends of your novel don't overdo it and feel that you have to keep writing. If you feel like it's a good place to end then wrap it up.
As the writer, you'll know the right time to end your novel, and you'll feel a sense of relief and pride knowing that you're about ready to turn your publishing dreams into a reality.
 So just like a Fourth of July fireworks show, start with something that will catch the readers eye, continue with jaw-dropping sparklers that ultimately lead to the grand finale, the moment that you've been waiting for, when everything falls into place and leaves your readers with a smile on their faces wanting more!
Copyright Dorrance Publishing, 2015