'Tis the Season for Holiday Reading!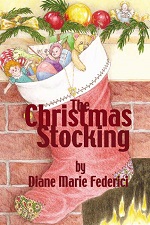 It may be hard to believe, but in just a matter of days, all of the shopping, gift wrapping, baking and decorating that you've done for Christmas will finally be put to good use!
As we are in the thick of "the giving season" with Christmas quickly approaching,  at Dorrance Publishing, we wanted to give you a great novel to add to your holiday reading list – or even as a last minute gift idea!
Although our Dorrance Bookstore is filled with wonderful books, today we decided to put the spotlight on one in particular: Diane Marie Federici's memoir, The Christmas Stocking.
Since Federici was born in Boston, Massachusetts, where winter's wonderfully frosty temperatures and snowfall seem to come earlier than in other parts of the country, it's no surprise that the Christmas season is Federici's favorite time of the year.
Through her memoir, Federici is able to recount the joy and gratitude that surrounded the Christmas seasons of her childhood.
For Federici's family, Thanksgiving was more than just a day that was filled with delicious food; Thanksgiving Day was the unofficial start of the Christmas season! So, while other families were watching football or enjoying leftovers after their Thanksgiving Day feast, Diane's family would gather around the dinner table and begin to make their Christmas gift lists.
Though this is just one memory that Diane shares in her joyous memoir, every page allows readers to experience this festive time of the year through the eyes of the author as a joyful child during Christmas.
Perhaps the most poignant memory that has been in the forefront of the author's memory after all of these years is the wonderful, never-ending Christmas stocking that her grandparents had "hung by the chimney with care."
Through the words of this memoir, Federici retells the history of the Christmas stocking and shows what it's like to be a child who anxiously waits for Christmas Day and the chance to hold and try to empty the bottomless Christmas stocking that her grandparents filled with treats and surprises!
It's this excitement and joy of Christmas Day and, most importantly to this author, the Christmas stocking that will keep readers wanting to turn the pages of this memoir and experience the thrill that Federici experienced as a young girl!
As you are in the midst of all the holiday madness, take time for yourself and curl up in front of a warm fire, pour a delicious cup of hot cocoa and take in the sights of your sparkling Christmas tree as you enjoy the cheerful words of The Christmas Stocking.
So, don't delay, buy your copy of The Christmas Stocking today!  Happy holidays from everyone here at Dorrance Publishing!
Copyright Dorrance Publishing, 2014