Take a Look at this Vacation Book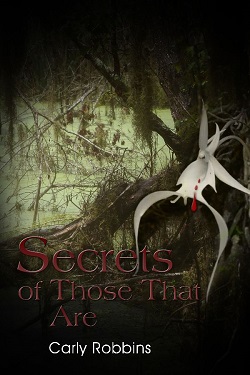 If you're packing for vacation but still haven't found the perfect book to read while away, we've found one that we think you'll enjoy. In fact, it's out of this world!
If you're intrigued by science fiction and love a book that will leave you on the edge of your beach chair, Secrets of Those That Are is the book for you.
The author behind this suspense-filled novel is Carly Robbins, and her inspiration came as she was walking through the halls of the rest home where her mother was undergoing physical therapy. It was in that moment that she became fascinated with the patients' stories and the alluring tales of love, hope and life that live within those walls.
Carly has never believed in a world without hope, be it fictional or real. So veering from the tradition of most vampire stories where the vampires lose all hope along with their souls , Carly decided to put her own spin on the tale.
Her story begins at Silver Cove Retirement Center in Hidden Beach, just off the coast of New York.
As a reader, once you've walked through the threshold of the retirement center, you'll meet Katelynn Anthony, an eccentric and beautiful Southern Belle who works as a registered nurse, and the elderly Lera McConnell, a sweet lady whom Katelynn has grown to admire.
Though Katelynn likes all of her charges, its Ms. Lera that she finds to be particularly intriguing and she quickly develops a fondness for her.  
They spend many nights talking about Ms. Lera's past, her childhood, and her life as a young woman who fell head over heels in love with Navar. He was her guardian, the lord of Go-Barth Castle, a knight of old, and was also a vampire, hundreds of years older than she.
Katelynn intently listens to Ms. Lera's fascinating and entertaining stories, but never entirely believes that they are true. However, little does Katelynn know that the things that Ms. Lera has been telling her are neither fictional nor flights of fancy.
There's reason behind why Ms. Lera would choose to tell her story to this nurse. It's because Ms. Lera believes in her heart that she has found the long awaited keeper of her secrets.
This pulse-pounding novel doesn't end there. In fact, the excitement is just beginning, because evil lurks behind both women, thanks to the power in the secrets that Ms. Lera possesses and passes on to Katelynn – a cure for the vampire virus.
This exhilarating Dorrance-published book is available in print or as an e-book. Order your copy today!
Copyright Dorrance Publishing, 2015