"How About a Casserole" This Holiday Season!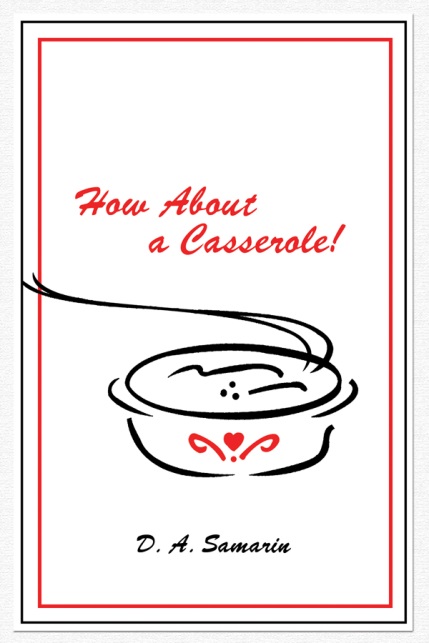 Whether you're prepared or not, this Thursday is Thanksgiving Day, and people all over the United States will be getting together with family and friends to celebrate.
Though Thanksgiving is meant to be a reminder to give thanks for what you have and to spend quality time with your loved ones, what would this holiday be without a delicious feast?
While the host of your holiday party is tirelessly working to make sure that the turkey is brined to perfection and each place setting is just right, you might be scrambling to come up with a recipe idea for the side dish that you've been assigned to bring.
For some people, cooking just isn't their "thing," or for others, they just can't make up their mind about what they want to cook. If you fall into either of these categories, at Dorrance Publishing, we think we have the perfect solution: How About a Casserole!
Now, these aren't your run-of-the-mill casseroles. In fact, one of our Dorrance authors, D. A. Samarin, compiled an entire cookbook of casserole recipes that young and old people alike can cook and enjoy.  
How About a Casserole! is much like a user's guide on how to prepare quick, easy and delicious casseroles that would complement any turkey on Thanksgiving Day.
As if cooking a dish for a group of people wasn't difficult enough, satisfying their food preferences is an added layer of pressure. For instance, someone wants chicken, another wants beef, and for the vegetarian in your life, they'll want something meat-free. Luckily, this cookbook has recipes for all three, and a collection of miscellaneous non-casserole dishes, too!
But, How About a Casserole! isn't just for the holiday season; it can be used for everyday dinners, too! For instance, if you've been searching for a vegetable lasagna recipe or perhaps a delicious idea for a chicken tetrazzini casserole, look no further. This Dorrance-published cookbook has these recipes and more!
If, for some reason, you weren't able to put this book to good use for your Thanksgiving Day feast (although we doubt that's possible with all of the recipes that are included), with the holiday season in full effect, you still have time to give this cookbook as a present to friends or family or to treat yourself! At Dorrance Publishing, we have to admit that How About a Casserole! is a gift that keeps on giving!
So, this week, when you're brainstorming recipe ideas, think How About a Casserole!
Happy Thanksgiving from Dorrance Publishing to you and your family!
Copyright Dorrance Publishing, 2014