A Deeper Look into the Story of Christmas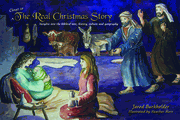 Although Christmas has come and gone, the meaning behind Closer to The Real Christmas Story sends a message that resonates with many this time and throughout the year.
Throughout the 124 pages of this Dorrance-published book, author Jared Burkholder offers readers an alternative telling of the popular Christmas narrative by delving a little bit deeper into the biblical text to decipher what it does and does not say.
To get a better understanding of the root of his book and what inspired him to share this story, we are going to look through the eyes of the author himself.
Burkholder served as a youth pastor for six years, a missionary in the Dominican Republic for seven years and a lead pastor for nine years. He also worked as an egg truck driver for two and a half years, and a college professor and administrator for 20 years.
The experiences that he has gathered along this lifelong journey inspired him to begin writing, and he added Dorrance-published author to his already impressive resume.
For some authors, all that they need to start writing is a little spark of curiosity. Burkholder felt that spark when he read an article by Kenneth Bailey that inspired him to take a deeper look.
Perhaps his biggest inspiration for his book sprouted from his skepticism of the traditional Christmas story. Burkholder was mesmerized at how easily some people ignore or abandon details that are explicitly reflected in the text, and also was perplexed by parts of the traditional narrative that defy common sense.
Closer to The Real Christmas Story is more than just a children's Christmas story book. In fact, readers of all ages whether young or old will be challenged to take a deeper look at the popular Christmas narrative.
Whether you choose to read this book on your own or with a small group, this book has become a discipleship tool that will promote healthy dialogue, challenge your critical thinking, and help you better understand the principles of Bible interpretation.
In short, this book may present something you may never have considered. Happy reading and happy New Year!
Copyright Dorrance Publishing 2013