Continuing to Honor the Navajo Code Talkers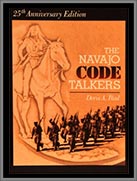 Did you know that Friday, August 14 was National Navajo Code Talkers Day? In case you missed it, we wanted to take this opportunity to continue to honor these men and their valiant efforts.
As one of Dorrance Publishing's best-selling publications, the story of the Navajo Code Talkers continues to be told to audiences far and wide as they enjoy The Navajo Code Talkers by Doris A. Paul.
During the World War II fight in the Pacific Islands, cipher machines, or machines that would create coded messages, didn't work well. However, it was imperative that the United States military had access to coded messages in order to send secret information from the front lines to the air bases.
Native Americans who spoke the Navajo language solved this problem.
The Navajo "Code Talkers," as they became known, used English code words that they then translated into their own language, Navajo, in order to send messages. Though the Japanese could hear these messages, they could not understand them.
For their bravery and service to the United States, in 1982, President Ronald Reagan set aside August 14 as day to honor the Navajo Code Talkers.
It's this heroic story that serves as the topic of Doris A. Paul's book, first published in 1974. The Navajo Code Talkers was one of the first books to feature the intriguing subject of these American heroes.
Within the pages of this Dorrance best seller are photographs of the men in action in the Pacific Theater, excerpts from official documents, correspondence with officers who worked with them and interviews with the actual Code Talkers.
Doris A. Paul's The Navajo Code Talkers has withstood the test of time and remains one of the most comprehensive historical accounts of the contributions of the Navajo Americans during World War II. To date, it has sold more than 50,000 copies, and served as a valuable resource to the 2002 MGM Studios movie, Windtalkers.
Get your copy today to learn more about this heroic time in history.
Copyright Dorrance Publishing, 2015